Macro-Pactor®
Designed and engineered for development, pilot projects and
full-scale production for the pharmaceutical, chemical and food industry
MACRO-PACTOR®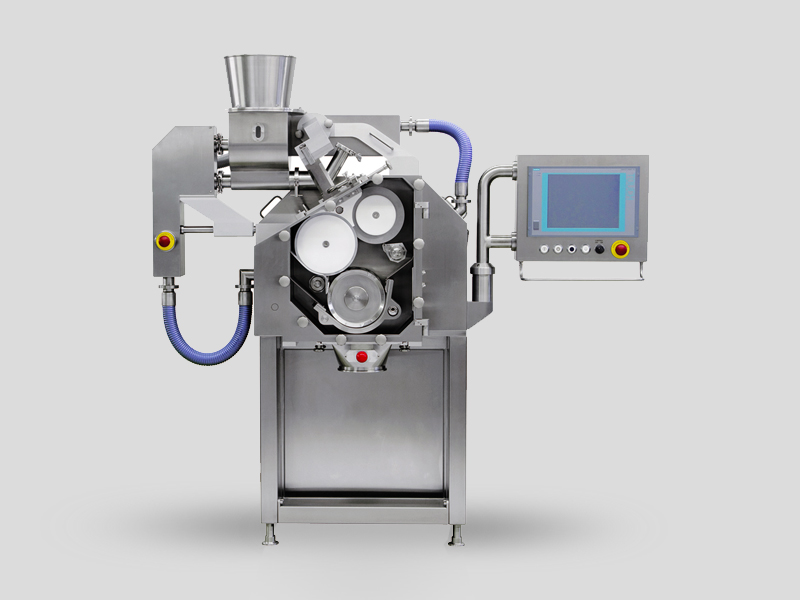 Typical Application
Continuous manufacturing point
Several different products need to be developed quickly
Very poorly flowable product
Large volume production
Products with demanding physical characteristics
Feasibility studies
Heat sensitive products
Products that tend to develop undesirable colour
Biopharmaceuticals
Continuous manufacturing
Benefits
Unique patented feedsystem with rollers, that can handle very wide range of products
Very close control over granulation parameters allowing a tight process control and uniform product character
Long dwell times due to large rollers, hence lower heat build up
Low fines generation
Powerful data acquisition, making development work and records reliable
It is the product of choice for continuous manufacturing by leading pharmaceutical businesses. The Macro-Pactor® is designed for High Volume production with the advantage of being able to handle volumes as low as 200g and as high as 400kg/hr
The Macro-Pactor®, offers the best solution for a QbD based production program due to its intelligent control system.
Innovative design allows the Macro-Pactor® to handle a very wide range of products with extreme physical properties, making it the first choice of leading Pharmaceutical Companies around the world.
It is the product of choice for continuous manufacturing by leading pharmaceutical businesses.
Capacity :100g Trial purposes to 400kg/hr
Containment :Standard 3ug/m3 weighted average
Roll Speed :1-30rpm
Press Force :1-20KN/cm
Gap :1-6mm
Weight : 1700kg Aprox.
WIP/CIP
Increased Containment levels
Roller Cooling / Granulator Cooling
Several different executions.eg wall mounted
You may be interested